I saw a fun thing on a site called TheVAhandbook, it was a page dedicated to telling odd facts about the author. I thought it was brilliant and immidiately set out to copy with pride! I think it is a great way to expose myself to you and let you get to know more about me. So i wracked my brains and came up with 15 things i'll call Gorkities instead of Oddities 😉
1 Collecting or Hoarding?
I am a collector boarding on hoarder, nothing gets thrown out coz you never know! Mostly with regards to warhammer40k converting or terrain. But also books! Special collectors edition is a weak spot! Also old stuff that is not neccesarily collectors edition but just have great looks about them. My girlfriend and I found volumes 1-3 of Jules Verne  Discovery of Earth translated to Danish at a huge market for second hand stuff, very cheap! Along with a Danish encyclopedia from 1920's. My girlfriend got the Complete tales and Poems of Edgar Allen Poe for Christmas 2014, it's just a marvelous piece of craftmanship. I have always a few comics and suddenly i found the complete collector editions of Neil Gaiman's Sandman on ebay.. I had to.. i just had to!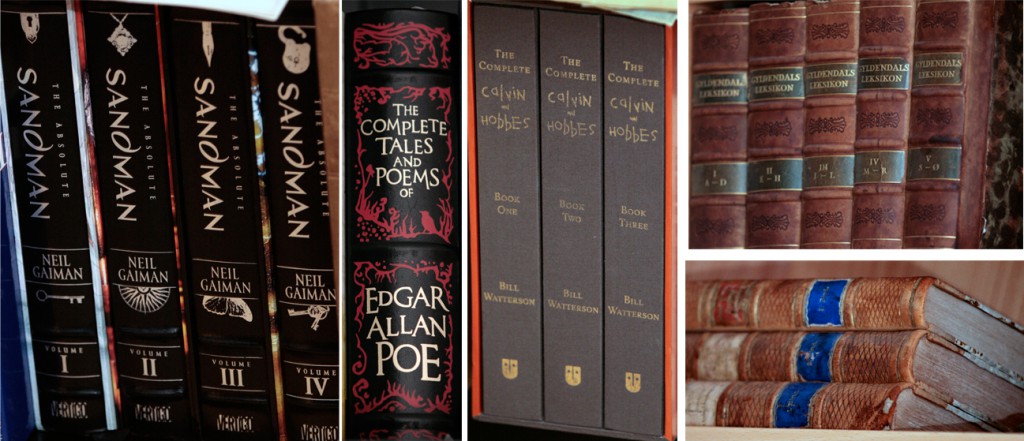 2 I love trying out new Computergames
I have started 130 computergames on Steam but i tend to not get around to finishing them, still I keep adding to the collection when there is a sale or some new hyped game comes out that i just HAVE to check out.
3 I used to play WoW, now it's Neverwinter
Apparently I am somewhat addicted to the new Neverwinter computer game, 12 characters… I am so curious as to how various classes, races, paths work that I have to try them all. I had to, after reading the 4 book by R.A.Salvatore setting the scene. The idea of combining, deliberately from the start to have a game take over from the books was a very cool thing in my mind and i enjoy the game as much as the books if not more. My girlfriend even got started on it and the only games she played before that was Microsoft Mahjong and facebook games!
4 Spending and me
I am eager to spend money on new gfx card or tons of warhammer, but wimp out on single big spendings. It is so much easier for me to spend small amounts several times than it is for me to spend it all at once on one thing, except when i need a new gfx card for the computer or some such.
5 My collector heart loves owning books
My list of 'Want to buy books' keeps on growing and seems uneding… The new series from Robin hobb about Fitz and the Fool, Wheel of time from book 6 ->, Dan Abnett's Gaunt Ghost's from only in death ->, Horus Heresy I've read up till Legion, R.A.Salvatores new triology Companions Codex, Talons of Horus, Joseph Delaney's Spook series: last book i read was Spooks Mistake, i also want more of the books
from andphilosophy.com which tries to relate many different popculture phenomenons with philosophy I already got metallica and 24 hours. And many more keeps popping up on my want-to-buy list. When i was a young buy i spent lost of time hauling books home from the public library, now it seems my dream is to have my own library!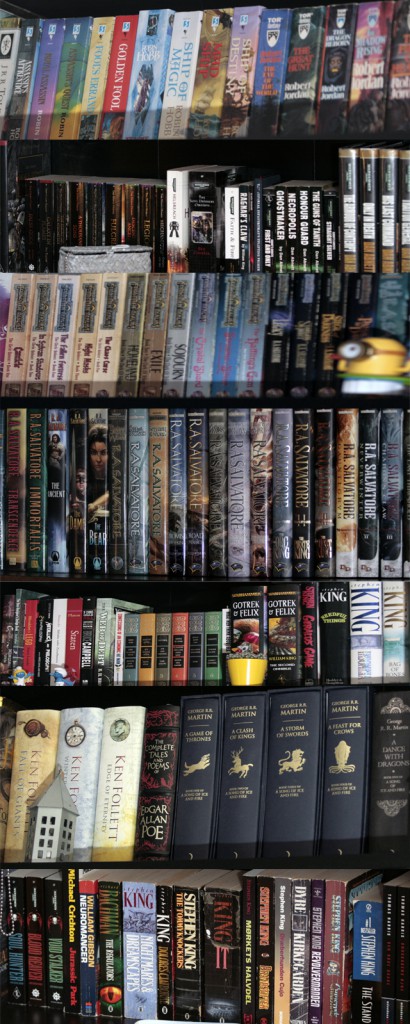 6 I like Old and Used
I enjoy old classic furniture, old bookcases yumm! would love to have an entire wall of floor to ceiling bookcases stuffed with books! My own home library with chesterfield furniture is a long time dream.
7 Photography
I am a hobby photographer, takes pictures of almost anything, coz you never know what you can do with it in photoshop (abit like the hoarding of items for warhammer custom building).
8 Guilty pleasures
Current Guilty pleasures: Pork rinds, chocolate soft ice and coke zero. due to diabetes2 these are some of the few things I can endulge without pushing my bloodsugar through the roof.
9 The Gork name
Gork is derived from an old AOL nick i created: Gorkensgork, soon Gork became a nickname among my friends so when i had to come up with a name for this project Tiny Gork just appeared out of nowhere.
10 Pirate blood
My family on my fathers side "Bahne" was once in possession of the Dutch crown jewels, back when we apparently were pirates! I have been told that way back some ancestors have tried to go via the courts to reclaim the jewels as family heirlooms 😉
11 Just because you are paranoid doesn't mean it couldn't work
I devour most conspiracy theories, and i enjoy following the connections that makes them 'plausible'. Believing them is one thing, entertaining the thought that it could be possible and seeing all the various coincidences (or not) connected and forming a picture is something my GM brain loves. Plots criss crossing and the abuse of power, oppertunistic use of developing events in correlation with an agenda. What's not to enjoy!? 🙂 I do believe however that the banks are the biggest mongers of them all.
12 Homegrind
I enjoy a pot of coffee made from freshly ground beans and many different aroma sented beans. Chocolate or irish cream flavored coffee beans.. yummy!
13 Sporty or not
Not a sports fan.. nothing… blank..
14 Home Decor
I have a big 60cm x 90cm homemade picture of Abaddon the Despoiler hanging in our hallway at home.
15 Romance
I got my first girlfriend at the age of 36 and now we have been living together for close to 1½ year, she is great and very accepting of my many odd interests and even allows them to enter the living room  🙂